An electric racing kart powered by renewable energy will be demonstrated at the Aintree Festival of Motorsport on 19th – 21st November.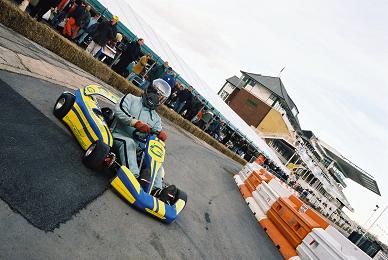 This is the first time ever!
Gordon Foat, Managing Director of Green Motorsport and Philip Kett will drive the electric kart, which charged using solar electricity. Green Motorsport's trailer has BP solar panels which produce electricity all year round, even in winter!
This historic occasion will also be the 50th anniversary of Aintree circuit, scene of Sir Stirling Moss's 1955 Grand Prix triumph. The racing legend will lead the celebrations at the circuit, along with fellow greats Tony Brooks and Roy Salvadori. Apart from solar panels, we are arranging to obtain a novel type of small wind turbine which will power the karts directly, with the surplus energy stored as hydrogen at the Green Motorsport HQ in Woking. We aim to have hydrogen fuel cell powered karts in two to three years time, when all the necessary testing and approvals have been obtained.
A fuel cell manufacturer has agreed to provide a fuel cell to recharge the karts and a world leading energy company is supplying technical information on hydrogen storage and safety as well as a suitable small electrolyser to generate hydrogen to power the fuel cell systems. We are undertaking Lithium Ion battery testing and we are negotiating for the new Sodium Nickel Chloride batteries from Switzerland, which give a range four times greater than current technology. We have also been promised one of the new alkaline fuel cells for recharging the electric karts and have good connections with most fuel cell manufacturers.
It has been agreed with the British Racing Drivers' Club (BRDC) Stars of Tomorrow that they will support a series of eight races using Green Motorsport electric karts powered by renewable energy. The Stars of Tomorrow are young drivers specially selected by John Surtees, and other racing celebrities such as Sir Stirling Moss, Sir Jack Brabham, Derek Bell, Carolynn Hoy and Martin Donnelly are also supporting Green Motorsport's planned series of races and events.
The aim of the championship "BRDC Stars of Tomorrow" is to help young people to develop both technical and driving skills and they are keen to promote the use of the electric and hydrogen vehicle technologies which will supersede our present internal combustion engine vehicles. The Director, Carolynn Hoy, has agreed to organise the eight electric vehicle races on behalf of Green Motorsport. We also have backing from the Motor Sport Industry Association and the Motor Sport Association.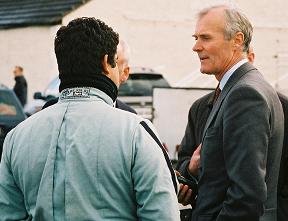 Many other organisations are sponsoring Green Motorsport, providing technical expertise, equipment and funding, including Stuart Energy Europe, Plug Power, Alternative Fuel Systems, Fuel Cell Markets, BP Solar, Future Energies Limited, NPower, Collinda Limited, Gravitron Limited, Fuel Cell Power, SEC battery company, Talbotts Biomass Generators and the Battery Vehicle Society.
This will be the first electric kart ever to be demonstrated at this race circuit, perhaps the very first electric vehicle, making it a very historic event for Green Motorsport at Aintree.
To find out how you can be a sponsor and for more information about our race series, visit our website at www.GreenMotorsport.com and look under 'Opportunities'.