Stuart Ziemelis, three times karting champion, put the Gravitron Electric Race Kart through its paces on the indoor track at the Autosport Show, NEC Birmingham on Sunday 14th January 2001.
The Gravitron G60 race kart was the only electric kart demonstrated at this year's Autosport event. The demonstration started with Stuart putting his foot down on the throttle in the centre of the track, the result being that the kart doughnutted on the spot around the feet of the track marshal! When Stuart got the vehicle out on the track, it went around at a blistering pace with tyres squealing. Observers of the demonstration were treated to the unusual spectacle of a race kart that is capable of a top speed of over 100mph, 0-60mph in less than 4 seconds and all achieved by the use of an electric motor that is capable of delivering 50HP to the rear wheels and operates at a low noise level of approx 60 decibels.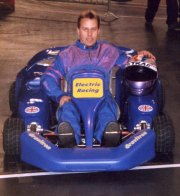 After his drive Stuart was asked for his immediate reaction. "Very surprising and amazing. The torque and control that you got from the throttle was amazing, very good. The acceleration was outstanding, the first time I put my foot on the throttle it bought a big grin to my face. You can do doughnuts with it, it just spins on a sixpence. It was awesome, really good."
When asked how the G60 compared to other karts that Stuart has driven he responded, "The acceleration and response was comparable certainly to that of a 250cc, but obviously without the gears."
Stuart's karting career has led him to become a Licensed Race Instructor at SRS Racing, one of 12 Kart schools in the UK. Stuart is of the opinion that the Gravitron karts would not only be excellent for training purposes, but should be considered as a viable alternative by tracks and clubs that are currently restricted to short and infrequent opening hours due to planning restrictions because of noise and pollution levels.
Electric kart racing takes place every year in Europe and Gravitron have been the only British entry in the international line up for the last 3 years. All races are governed by FIA rules and require drivers to hold an international kart racing license. Electric kart racing has yet to get a foothold in the UK, but with more and more tracks being hampered by planning problems and 2 stroke engines likely to be banned in some areas, it may make sense for many to consider electric karts as a viable alternative, leading to longer opening hours, more race days and increased revenue for clubs and tracks as a result.
Gravitron Ltd, based in Gloucester, are designers and manufacturers of drive systems for electric vehicles. Karts are just one of the applications for Gravitron's products, other current projects include an electric dragster, electric motorbike and a vehicle that will attempt to take the current British Electric Land Speed Record later this year.